My two girls are always telling me about some "amazing life hacks" they have seen on YouTube… How to create the perfect fish-tail plait, How to catch a scream in a jar and listen to it later or How to make your battery last longer on your phone!
Now, don't get me wrong – these are all very important "life hacks" but this got me thinking, why don't do my own little set of life hack on something I know all about.
Id like to share some of my "Hair Loss Hacks" with you all.
Hair Loss Hack 1 – Comfortable Wig Cap
A comfortable cap is essential. Wig construction is my passion, I wear my wigs for up to 16hrs a day so they just have to be comfy and supportive…. Just like a good bra!
Hair Loss Hack 2 – Opalex
Opalex – I love my wigs to be very blonde so this little beaut helps to revive them and helps keep them looking amazing for as long as possible. I use it every week.
Hair Loss Hack 3 – Dirty Roots
A Dark Root – I never wear a wig without adding a dirty root first, it just gives my wig a little sass!!
Hair Loss Hack 4 – Eyelash Strips
UNO – Black lash glue. This stuff is my life saver along with my little lash box. I wear eyelash strips most days as I lose my eyelashes too. You can get both of these from Primark.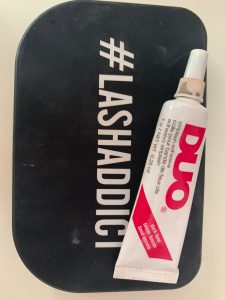 Hair Loss Hack 5 – SPMU
Semi-Permanent Make-Up (SPMU) – My eyebrows and lashes are constantly coming and going due to my alopecia. Donna, our own salon SPMU expert has made them look so perfect so when they do fall out… boom – I'm ready. Check out our website for more info on SPMU
Hair Loss Hack 6 – Halo
A Halo – This bad boy is my "go too" for either my early morning boxing classes, the beach or a lazy Sunday. Halo then Hat