Scalp micropigmentation (SMP) is a medical tattoo treatment for hair loss that is becoming increasingly popular in the UK. This is because of the effective results as well as the lower costs when compared with other hair loss treatments. Here is all you need to know about SMP prices in the UK.
Scalp Micropigmentation Explained
If you're new to the concept, SMP is a cosmetic, non-surgical hair loss treatment for both men and women. An experienced SMP Technician at a hair clinic will perform a medical tattoo, using a pointillism technique, that creates the impression of fuller hair. It is most often used to treat male-pattern hair loss but is increasingly used to treat female baldness as well. Because the results are immediate yet subtle, the treatment is able to instantly enhance self-esteem and renew a confidence that might've been lost through ongoing hair loss.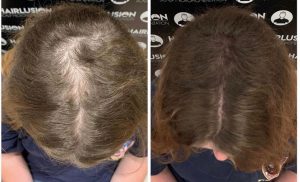 Why Should You Avoid Cheap Scalp Micropigmentation?
While we all love a great deal, opting for a bargain in terms of cosmetic treatments can have disastrous results. Here is why you shouldn't choose low costs over professionalism for your SMP.
1. Poor Results
An inexperienced or unqualified SMP practitioner will not be able to offer you the desired effects. You could be left with a completely artificial-looking treatment because of inconsistency and incorrect pigmentation.
2. Risk of Infection
Unhygienic practices are extremely detrimental to your health. By going with a cheap scalp micropigmentation, you're risking a scalp infection, or worse.
3. Increased Expenses
If you go with a low-cost hair-loss solution, the results could be so disastrous that you'll end up paying much more trying to fix what was done by the previous practitioner.
4. Psychological Impact
Any hair loss experience has a major psychological association and is very personal for the individual. Cheap treatments will, undoubtedly, result in further degradation of your self-esteem and leave long-lasting emotional scars that can be avoided.
What Are The Warning Signs Of a Cheap SMP Deal?
Reputable SMP hair clinics will sometimes run deals, so you might find a really cost-effective treatment, but it's definitely worth looking out for a really 'cheap' deal. Here are some of the indicators that it's not one to try:
It's a once-off price for any treatment: This is an impossible task as each SMP cost will have to be connected to the individual needs. It could be scarring cover that is needed or a full head treatment – this makes all-inclusive pricing impossible. A reputable company will require a consultation before providing a price and determining what the best treatment is for you.

Certifications: A reputable scalp micropigmentation artist will have undergone training and achieved some form of certification that allows them to perform these treatments. A cheap offer might mean that the practitioner is not properly qualified to perform the treatment.

Experience: This is not to say a newly-qualified practitioner can't perform the SMP treatment, but a reputable organisation will ensure they're working under a professional with experience, so there's no room for error.
What Is The Average Cost Of Scalp Micropigmentation In The UK?
After learning about the incredible results of SMP, the first question many people ask is 'how much does the treatment cost?'. This is a completely valid question, and there are many factors that play into this. However, it's very important that you don't make this decision solely based on cost. If you pay cheap, you will get cheap results, which could be anything from an ineffective or artificial finish, changing ink colour or infection.
It's recommended that you only consult on SMP treatment with professionals, such as Hair to Ware, so that you can be assured of quality treatment and an effortlessly, natural look. Hair to Ware is also able to provide assistance in getting coverage for treatment from the NHS.
The SMP will last a number of years, and here's what you can expect in terms of treatment:
You will need anywhere between 2 and 4 sessions, with most clients happy after 3 sessions.

A half-crown starts at £750 per session.

A full head will cost between £1200 to £2000 per session.

Female thinning parting starts at £450 per session.

Female thinning crown starts at £550 per session.

Scarring cover (such as

alopecia

scarring) will cost around £300 per session.
It's important to note that all consultations are free of charge, whether you opt to go with Hair to Ware or not.
What Factors Affect The Cost Of Scalp Micropigmentation?
SMP is a comparatively affordable hair loss solution. Surgical treatments will be quite expensive, but even hair loss medication will add up over time. Every SMP treatment is customised to the individual which means the cost will differ from one person to the next. There are a number of factors that impact pricing, here's a look at some of them:
Skin type: Every client will present with a different skin type, and for those with skin that is more sensitive, dry or thicker, the SMP cost might be a bit higher as the plan will have to be tailored to this.

Norwood Scale

: When it comes to male-pattern baldness, practitioners use what's known as the Norwood Scale to determine what level a client's hair loss is at. This is a visual representation to show hairlines in various stages of recession. The range of your hair loss will determine the price.

Practitioner experience: As mentioned, you must ensure you're working with a qualified practitioner and the amount of experience will also determine the price. This is true of any field – those with more experience tend to charge higher prices.

Scarring: If you're looking for SMP treatment to cover scarring –

traction alopecia

or accidents – then the price will be determined depending on the amount of scarring and thickness. Most hair clinics will not treat

keloid scarring

with SMP.

Geographical location: Where you have the treatment done will impact pricing, but Hair to Ware welcomes clients from all over the UK because of the excellent service and personalised experience.
Get SMP Treatment From Someone With Real-Life Experience
Hair to Ware works with only the best in the business, and when it comes to scalp micropigmentation, Joe Collins of Hairlusion is the best. A Harley Street-trained practitioner, Joe is not only an expert in the field, but he has gone through the hair loss journey himself. Having tried every hair loss treatment – including shampoos, medication, laser and wigs – Joe is a strong advocator of SMP, both for its cost-effectiveness, as well as the finished look.
Partnering with Hair to Ware, Joe performs all the SMP treatments after a thorough consultation and assessment of each client.
For Joe, it's about mental and physical support: "Witnessing my clients transform and grow in confidence is the simple reason why I love what I do. Success, to me, is helping create success for others by achieving outstanding results."
What To Expect From The Consultation?
The first step on your SMP journey is a free consultation with Joe. This can be done in person, or via video call with Joe, but you'll need to start by booking an appointment with reception. Discretion is key, and if you'd like to meet in person, Hair to Ware provides a back entrance for those who'd prefer it. During the consultation, Joe will assess your needs and explain the SMP treatment – whether it's the right option for you or not. You're provided with a wealth of scalp and hair-loss related advice from an expert in the field as well as the experience from all the staff in the clinic.
If you're keen to proceed with the treatment, Joe will provide you with a health questionnaire to ensure there are no risks to the procedure for the client. Because the end result is a happy, confident client, Joe will recommend the best course of hair loss treatment, even if it means referral elsewhere. He will also be honest in his approach, explaining the reality of the final impression, and will never treat anyone if there is a potential health risk.
Honesty is key – from both Hair to Ware and the client – so it's important that the consultation is thorough.
FAQs For The Scalp Micropigmentation Process?
1. What products are used?
Joe uses Bishop SMP needles and black carbon ink (considered the safest and cleanest ink) to place a series of microdot tattoos over the scalp, creating an illusion of hair follicles.
2. Is there a painkiller?
There are no numbing creams used as this could impact the spread of the ink, however, it is not a painful process, registering about a 3/10 for pain.
3. How deep does an SMP needle go?
This will depend on the individual's skin thickness and other factors but the depth ranges from 0.3 to 1.2 mm.
4. How long is an SMP session?
This too will depend on the individual, but each full session will last around 2 to 4 hours on average.
5. Will it fade?
The ink will fade over time, but because it is a high-quality ink, it does not spread or go green. The ink ages with you.
6. Will I need touch-ups?
If you want to enhance the look over time, then Joe will do a touch-up. For his clients, touch-ups are done at a discounted rate.
Scalp micropigmentation is an effective hair loss solution that leaves clients happy and confident. Hair to Ware will first ensure that SMP is the right treatment for the individual before you start this confidence-inspiring journey together.