We help people with
hair

loss

feel

beautiful.

free.

great again.
We help people with hair loss feel great again.

Speaking from experience.
"I lost my hair – all of it – when I was just 14 years old."
Amanda's personal experience with the devastation of hair loss paved the way for the opening of Hair to Ware in 2001. With our dedicated team of quietly compassionate stylists, we are in a unique position to assist those suffering from thinning hair, alopecia, trichotillomania or hair loss due to chemotherapy.
"It's okay to mourn the loss of your hair! It's okay to be angry and sad. But just know that there are solutions and we can help you!" 
We specialise in complete hair enhancement services; finding and fitting the perfect wig for you is what we do. Would you like to know more?
Free customisation, guidance and support.
We understand how fragile and vulnerable you are feeling right now. And we can assure you that you can rest easy, knowing that we are here to hold your hand through what may be a difficult process. 
Every wig or hairpiece from Hair to Ware comes with free customisation to ensure that you are thrilled and comfortable with the final result. Our skilled stylists will cut and style your new wig to suit your personality and circumstances. 
We also offer additional services such as brows for the most natural, overall look and a real confidence boost.
We warmly invite anyone struggling with hair loss, be it male, female, transgender or non-binary. ALL ARE WELCOME in our safe, non-judgmental environment to talk with us, and let us help you to find exactly what you need.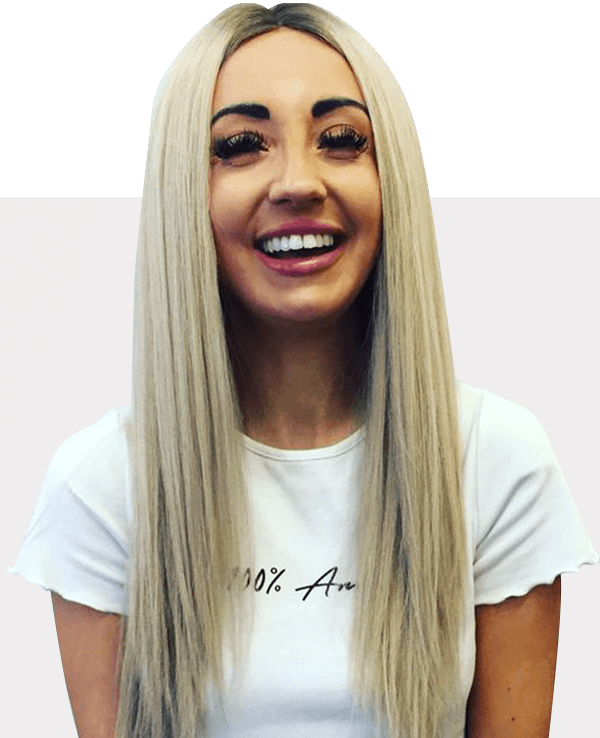 When it comes to wig brands, USA-based Follea is the industry leader.
Our premium partnership makes us the only direct supplier of Follea in the UK, which enables us to offer our clients a highly-customised hair loss solution.
We have consignment of stock so you can test the wig before buying it. Once you've chosen your Follea wig, we'll colour, cut and style it for you, free of charge.
Tried and tested. This is what's popping at the moment.
Out and about, keep a lookout
In the media
"would recommend to anyone loosing their hair"
"Fantastic customer service. Got my wig a few months ago but wanted a fringe cut into it. They were so helpful and understanding. I would recommend to anyone loosing their hair to go here."
Jeanette Richards, 2021
Real people with life-changing stories.
"just fantastic with my 3 year old"
"Amanda and Maisie were just fantastic with my 3 year old who had her first wig fitted due to losing all of her hair to Alopecia. Thank you so much. 😊 Beautiful wigs."
Kerri Jane
The Little Princess Trust
The Little Princess Trust provides free real hair wigs to children and young people, up to 24 years, who have lost their own hair through cancer treatment or other conditions.
Wigs for Heroes
Wigs for Heroes supports anyone facing financial difficulties with buying a wig by offering Wig Grants that can be used with NHS partnered providers, like us at Hair to Ware.