Hair Extensions & Enhancers
Hair extensions that weave their magic.
Stunning hair extensions, hair enhancers, and hair toppers to beautifully integrate with your own hair. At our hair loss consultancy and salon in Ware, Hertfordshire, we offer a full range of quality hair extensions and hair enhancers to achieve a completely bespoke natural look.
Hair Extensions
All of our consultants at Hair to Ware are fully trained in a variety of techniques to achieve a unique result for you.
We offer a high-quality range of Hair Extensions solutions, including hair wefts from our fibre range and our premium human Remy hair selection.
The wefts Hair Extensions are made to measure and hand-sewn, cut, and styled in-house to create a bespoke, professional finish.
The hair extensions add length and depth to your natural tones and are available in a wide range of sizes, textures and colours.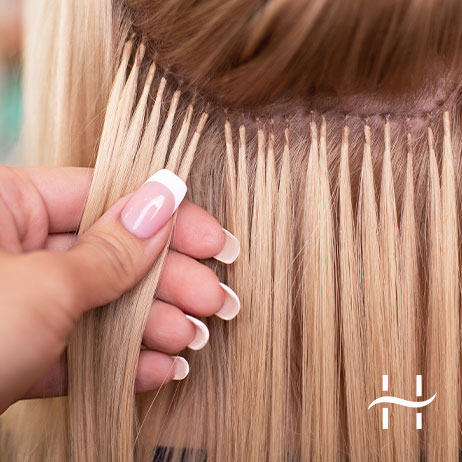 Hair Enhancers
A hair enhancer or topper is a perfect solution for thinning hair or top pattern baldness. We offer great advice and guidance on a wide range of colours, sizes, and types of human hair, flexi-fibre, and modacrylic fibre solutions.
Extremely lightweight, the enhancer can be attached to your own hair by either removable clips daily or for a more semi-permanent secure hold using the micro-beading technique or strong adhesives and wig glues.
Both achieve a beautiful and natural look. The hair enhancers are completely un-styled allowing our professional stylists to cut, style and personalise them to suit your individual needs as well as ensuring seamless integration with your hair.
Human hair toppers can also be dyed or permed giving the perfect seamless match to existing hair.
Types of Hair Extensions
Micro and nano ring hair extensions are the most natural-looking options available on the market, which are also easy to connect to your hair with minimal damage.
It is an evolutionary hair enhancement system in which organic, reusable human hair is attached without the use of glue, heat, sewing or braiding which adds volume to the hair without damage and is incredibly easy to maintain, comfortable to wear, and looks and feels as natural as your own hair.
We'll make sure every one of your needs are met and welcome you in for a free consult.
Hair To Ware is proudly associated with:
"Really happy with my 'refresh' it looks fantastic! Thank you"
Andrea Horlock
Real people with life-changing stories.
"Ladies you have been truly AMAZING"
"Ladies you have been truly AMAZING, I cannot thank you all enough for your care and compassion and most of all my amazing new hair, I love it"
Laura Fairbrother, 2021
Call us
We'll make sure every one of your needs are met and welcome you in for a free consult.
Online Shop
Have a look at our awesome products online. We'll customise your purchase especially to your needs.