"It all began when I was 14 and lost all my hair."
Hair to Ware is a hair loss clinic which was formed in 2001 after a mum's struggle to help her 14-year-old daughter get her joy back.
We work with children from as young as 2 along with both men and women. Our devoted hair loss specialists focus on hair loss caused by chemotherapy treatment as well as alopecia and thinning hair. Hair to Ware is privileged to support and work alongside the Little Princess Trust™. We are also proud to hold the National NHS framework agreement which enables us to supply, fit and maintain wigs to all local trusts.
Our professionals provide a consultancy service with a large range of exceptional hair systems for you to choose from, followed by a complementary cut-and-style all conducted in one of our many private consultation rooms.
My road to feeling great again.
Our devoted hair loss specialists focus on hair loss caused by chemotherapy treatment as well as alopecia and thinning hair.
Amanda has alopecia and is a necessity wig wearer and has been for over 20-years. This puts her in a unique position enabling her to understand the day-to-day issues of hair loss and the importance of wig comfort. Amanda dedicates her time to supporting others also experiencing hair loss and strives to constantly find and supply the most comfortable, natural-looking wigs and hairpieces available in the industry for our clients.
Kelly is experienced in all aspects of hairdressing, specialising in cutting and advanced colouring techniques.
Kelly is highly trained in hair extensions and wig cutting, colour and design.
Kelly says "I wear hair extensions myself as I have always had very fine hair, I do understand the frustrations with it. My passion is to make my clients feel confident and good about themselves."
As our senior stylist at Hair to Ware, Maisie approaches hair loss with meticulous attention, consistently surpassing expectations to fulfill the unique needs of each client. Renowned in the hair loss industry, she has received extensive training in various techniques, including semi-permanent hair systems, bespoke wig designing, hair extensions, wig fitting, bespoke coloring, and advanced styling techniques.
Bree joins the Hair to Ware family as a highly qualified and experienced micropigmentation professional, running her own studio with an array of local and national clients and specialises in all semi-permanent makeup techniques Including all the latest ombré, natural strokes, pixel brow and eyeliner - 3D lips and much more.
We are excited to have Bree's highly acclaimed skills in our studio, 2-3 days a week.
Bree keeps her skill sets up to date by attending regular conventions and training courses and she will only use top quality products that has taken Bree years to find the perfect combinations.
Not only is Kim our salon manager but she is our main liaison between the contracted NHS trusts we work with and our clients, ensuring all our referrals run smoothly from start to finish. Kim deals with our suppliers on a daily basis ensuring all client orders are made and our stock is the most up to date in the industry.
Kim is also a professional and experienced bra fitter, Hair to Ware is a Royce stockist, specialising in Royce post-surgery and mastectomy bras.
With over 13 years experience at some of the UK's biggest brands. Poppy has a wide and varied skill set enabling her to cater to anyone's needs in hairdressing . Colour is her main passion. Poppy is an Award winning colour expert who went on to maximise her understanding of her craft at the highest level which brings a fresh up to date knowledge into the hair-loss industry, allowing us at Hair to Ware to create the most artistic and bespoke wigs , hair systems and toppers as unique as you are.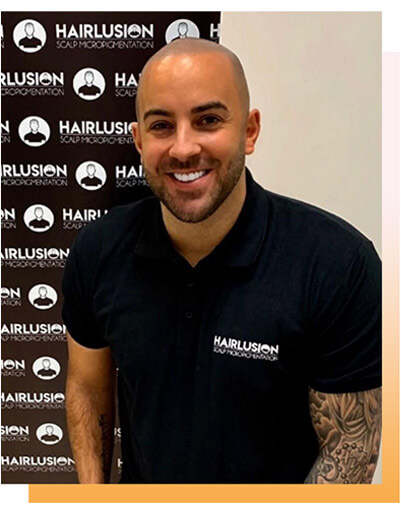 I have been a client and a patient of every hair loss procedure that is available.
Not only do I have first hand experience and profound knowledge, I have also experienced and thoroughly understand the emotions that are paired with hair loss. With these strengths I take each and every one of my clients through a journey where I am able to support my clients both mentally and physically.
Witnessing my clients transform and grow in confidence, is the simply reason why I love what I do.
We are 1 of 25 NHS approved salons.
Hair to Ware is privileged to hold the National NHS contract. This means that we can accept NHS wig prescriptions.
Please speak with your local hospital if you have any queries regarding their policy on prescriptions or alternatively please contact us to see if you trust in one we are currently contracted with.
You will receive a referral from the NHS Trust Orthotics department either by letter or telephone. There is a statutory national government prescription charge of £72.80, which is payable by cheque only.
This charge is applicable to all clients unless you receive a government prescription. Should you have any concerns regarding your referral, please feel free to contact us directly at any time.
We recommend this informative cancer and hair loss page on the NHS website – you will find lots of helpful information on chemotherapy, the side effects and planning for hair loss.
Hair To Ware is proudly associated with:
"couldn't have been happier"
"I called yesterday to request a possible last minute appointment and was accommodated by Amanda. Mum and I attended and were welcomed by extremely friendly, knowledgeable and helpful staff. Absolutely fantastic! We couldn't have been happier and left with a great wig for Mum, lifting her spirits as required. Thank you very much."
Natasha Dillon Porter
Real people with life-changing stories.
"Kind friendly staff willing to go above and beyond"
Rachelle Hills
Call us
We'll make sure every one of your needs are met and welcome you in for a personalised consult.
Online Shop
Have a look at our awesome products online. We'll customise your purchase especially to your needs.
So quick & easy. Made to feel immediately at ease. Loving having my new hair. Feeling 10 years younger. Wish I'd done it months ago. Thank you ladies. X
I have had a wonderful experience with Hair to Ware! I had been looking for a solution to my thin hair for years and thankfully came upon their Instagram account a few weeks ago. I booked for a consultation and met the brilliant Maisie! She was so patient, kind, empathetic and knowledgeable. The solution she came up with has far surpassed my expectations and I wouldn't hesitate to recommend her, and Hair to Ware, to anyone. Absolutely brilliant!!!
Jennifer Witchell
2023-09-13
I am so happy with the service provided at Hair to Ware by Poppy. I picked up a beautiful wig that makes me feel like me again. I cannot fault the professional and compassionate help I've received. I can thoroughly recommend.
Thank you so much Amanda & Poppy for advising me. I went to work the next day and completely forgot I was wearing a Topper and made me feel a lot more comfortable. Xx
Caroline Fountain
2023-07-06
The team from Hair to Ware always go the extra mile. I have just got a topper after years of using a full wig. The topper has made it so much easier to keep cool in the summer. I have also tested the topper on a roller coaster and had no problems. I am over the moon with the product.
More than pleased with my wig and the one to one attention I received. All the staff are so pleasant and patient helping me to choose
Fantastic place. Such kind and patient stylists with so much knowledge and choice of hair.
Marie Robinson
2023-05-31
From start to finish, Hair to Ware could not have done more to help me in a stressful time when my hair rapidly fell out from chemo. Despite being a bank holiday weekend, HTW read my email and contacted me straight away to ensure that I was offered the first appointment they had once they reopened. The consultant was so kind and helpful. I told her a budget and she showed me only things I could afford. She took her time to make sure all my questions were answered fully and talked me through the whole process of wig wearing and maintenance. The staff went out of their way to make what was a horrible situation for me, really pleasant and positive. Thank you.
I am writing to offer the biggest thank you to Maisie for the amazing job she did in applying my hair extensions yesterday. She has completely transformed my hair and the way I look. To say I am over the moon is an understatement. The colour and texture blend in so well that no one except Maisie and I would know my secret. Although I have wanted this done for quite some time now, I was very apprehensive about the process before meeting Maisie. However, I needn't have been as she instilled me with the confidence in knowing that everything would look really natural and that no-one would know. I have to say, the transformation for me has been incredible. She has given me so much more confidence than I could have ever dreamed of and this has made me so very happy. I will definitely be recommending your amazing salon to all my family and friends, and I am forever grateful to Maisie for her friendliness and professionalism. You are all an amazing team and I can't thank you enough.