Hair to Ware – Guided Tour
About Us
Hair to Ware Ltd is a bespoke hair salon that is dedicated to helping you deal with hair loss. Not your traditional hair salon, we specialise in providing a complete hair enhancement service to rectify all forms of hair loss. We are a dedicated, family-run business that began in 2001 based in Ware, Hertfordshire. We work with children from as young as 2 along with both men and women. Our devoted hair loss specialists focus on hair loss caused by chemotherapy treatment as well as alopecia and thinning hair. Hair to Ware is privileged to support and work alongside the Little Princess Trust™. We are also proud to hold the National NHS framework agreement which enables us to supply, fit and maintain wigs to all local trusts.
Our professionals provide a free consultancy service with a large range of exceptional hair systems for you to choose from, followed by a complementary cut-and-style all conducted in one of our many private consultation rooms.
Hi Amanda, I came in yesterday afternoon for the first time. I hope you don't mind me messaging you, I wanted to say I haven't stopped thinking about my time with you all. Its really made a difference to how I feel, and has given me hope that i can feel "normal" again. 
Anyway, thank you so much and see you again soon.
NHS REFERRALS
Hair to Ware is privileged to hold the National NHS contract. This means that we can accept NHS wig prescriptions. Please speak with your local hospital if you have any queries regarding their policy on prescriptions or alternatively please contact us to see if you trust in one we are currently contracted with.
You will receive a referral from the NHS Trust Orthotics department either by letter or telephone. There is a statutory national government prescription charge of £72.80, which is payable by cheque only.
This charge is applicable to all clients unless you receive a government prescription. Should you have any concerns regarding your referral, please feel free to contact us directly at any time.
We recommend this informative cancer and hair loss page on the NHS website – you will find lots of helpful information on chemotherapy, the side effects and planning for hair loss.
Hair To Ware is associated with: 
HBSA

(Hairdressing and Beauty Suppliers Association)

Behind the Mask

(Hair & Beauty Professionals against Domestic Abuse)

BARBICIDE® Certifications
 
Speaking From Experience – Amanda's Personal Journey With Hair Loss.
Hair to Ware owner, Amanda, also wears wigs and has a very personal story and journey. Amanda started Hair to Ware in 2001, after her own personal experience with hair loss at 14 years old. This equips Amanda and her team of stylists to compassionately, and expertly guide you through the whole process of hair wearing, ensuring you get the perfect fit.
Director
Amanda has alopecia and is a necessity wig wearer and has been for over 20-years. This puts her in a unique position enabling her to understand the day-to-day issues of hair loss and the importance of wig comfort. Amanda dedicates her time to supporting others also experiencing hair loss and strives to constantly find and supply the most comfortable, natural-looking wigs and hairpieces available in the industry for our clients.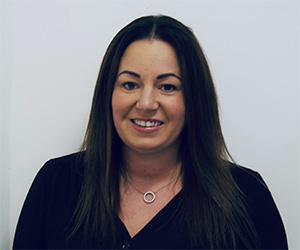 Front of House
Kim is our front-of-house manager. She deals with all telephone enquiries and greets you with a smile upon your arrival. Kim is our main liaison between the contracted NHS trusts we work with and our clients, ensuring all our referrals run smoothly from start to finish. Kim deals with our suppliers on a daily basis ensuring all client orders are made and our stock is the most up to date in the industry.
Kim is also a professional and experienced bra fitter, Hair to Ware is a Royce stockist, specialising in Royce post-surgery and mastectomy bras.
Hair Loss Consultant
With over 15-years experience in the hair industry, Natasha has developed a vast range of skills and is highly advanced in hair colouring, cutting and styling techniques. Natasha designs bespoke creations and is a perfectionist in her work with a great calm relaxed manner. Natasha not only takes great care in transforming the appearance of her clients but also boosting their self confidence.
Hair Loss Consultant
With 11 years experience in the Hair Dressing Industry Maisie is an accomplished stylist specialising is colouring and power blow drys.
Maisie moved to Hertfordshire, from Brighton in 2019, where she worked in a busy hairdressing salon so she brings a wealth of experience and funky trends to us. Maisie says: "Knowing I was moving, I knew it was time to 'add a string to my bow' in my career . When I saw Hair to Ware were advertising, I did lots of research and decided I knew this would be the job for me. I drove from Brighton to meet Amanda at the Salon & I knew instantly this is what I wanted to do! Everyday is a school day in hairdressing, I have done many courses and also a lot of in-house Salon training! My job is so rewarding, I'm so pleased I made this move & I would never look back!"
Hair Loss Consultant
Kelly reached the position of Senior Stylist with her pervious salon and brings 14 years of experience. We are so excited Kelly has now joined team Hair to Ware.  Kelly is experienced in all aspects of hairdressing, specialising in cutting and advanced colouring techniques. Kelly is highly trained in hair extensions and wig cutting, colour and design.
Kelly says "I wear hair extensions myself as I have always had very fine hair, I do understand the frustrations with it. It is my passion to make my clients feel confident and good about them selves"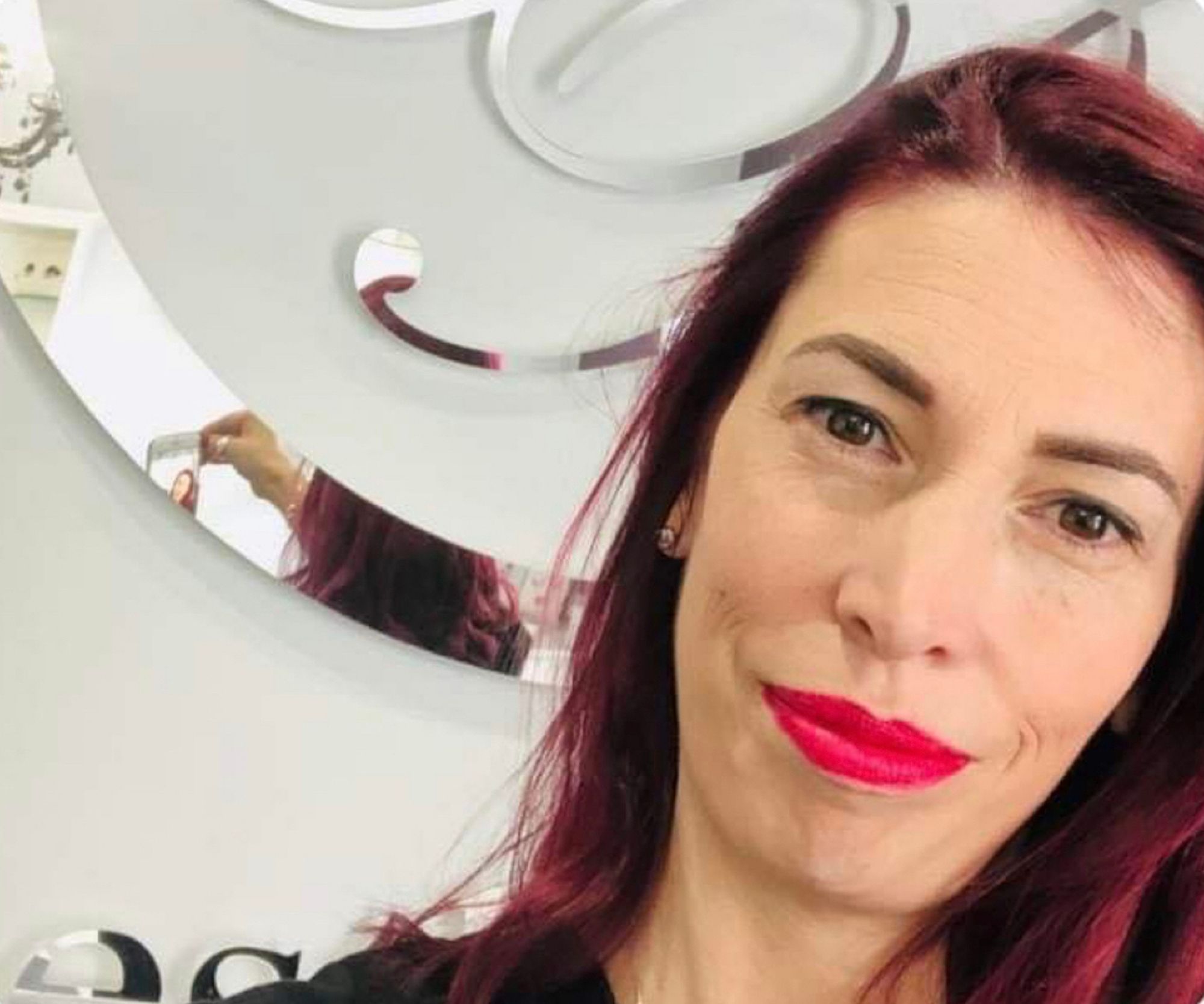 Permanent and Semi-Permanent Makeup Specialist
Emma Baglee joins the Hair to Ware family as an award-winning international artist and educator. She is a highly qualified and experienced micropigmentation professional, running her own studio with an array of local, national, and international clients. We are excited to have Emma's highly acclaimed skills in our studio, 2-3 days a week.
Emma started in the healthcare field after leaving school and has a passion for many art forms, stemming from an artistic family background. She attended the London College of Fashion and has been working in the beauty industry since 2004.
Emma is one of only a handful of micropigmentation artists in the United Kingdom to have trained in all four stages of the Nouveau Contour and KBPro program and is qualified to Master Elite level in permanent makeup. She entered her 10th year within permanent makeup by winning very high honours such as SPMU brow specialist 2020 and medical tattoo specialist of 2020, executing some of the most advanced procedures available for brows, eyeliner, lips, scalp micropigmentation for hair loss and a range of medical and restorative treatments.
Emma is also a fully qualified micropigmentation trainer and supports many new technicians as they embark on their own careers in permanent makeup.
Forever passionate about helping others, Emma loves nothing more than making her clients smile, giving them the gift of confidence. Being a cancer warrior herself, she is passionate about the hair loss industry and empathises with anyone that has to endure this journey.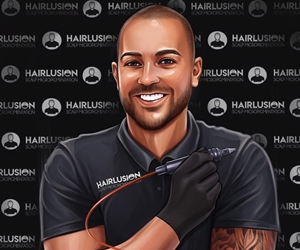 Scalp Micro-Pigmentation Specialist
I'm Joe the founder and owner of Hairlusion. I am a Harley Street trained Scalp Micropigmentation Technician. My biggest strength in the hair loss industry is that I once was the client, I have been a client and a patient of every hair loss procedure that is available.
Not only do I have first hand experience and profound knowledge, I have also experienced and thoroughly understand the emotions that are paired with hair loss. With these strengths I take each and every one of my clients through a journey where I am able to support my clients both mentally and physically.
Witnessing my clients transform and grow in confidence, is the simply reason why I love what I do.
Opening Hours
Monday – Saturday,
10:00 a.m. – 5:00 p.m.
Closed on Sundays
Come On In
Hair To Ware
67 High Street
Ware
Hertfordshire
SG12 9AD